Description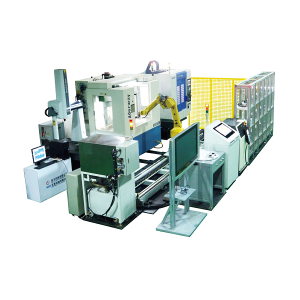 The industrial computer connects the robot, CNC machine and warehouse. The "equipment data collection system" calls the machining program of the CNC
machine equipment, and monitors the operation of all the equipment and alarm feedback. The PTMES "manufacturing execution system" realizes the
intelligent production process and plan adjustments.
The whole process reflects the concepts of customization, IoT, Internet + and intelligent production.
The production line uses the tray as the carrier to clamp different products by changing the clamping mode of the tray. At the same time, the barcode or RFID chip on the tray records all the information of each product, so the robot can realize different products by carrying the pallet.. The "equipment data collection system" , which is self-developed by "Pro-Technic", can realize program management and data reading of different machines tools, enabling different machine tools to integrate production at the same time, it makes the production line more diversified. Based on the data of PT-MDC, PTMES "Manufacturing Execution System" allows customers to independently arrange production plans and adjust production processes, and provide real-time data for customers to conduct production monitoring and production management at any time.